We are happy to provide the results from our bi-annual Priority Setting Survey for community members/clients. We received 598 responses, prioritizing the categories of legal problems that most affect you or members of your family.  Here are the results: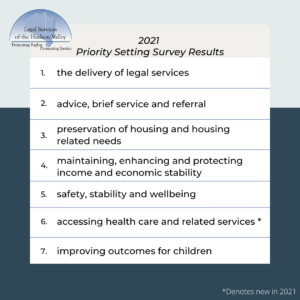 Thank you for helping us to identify and prioritize the needs of the community.  We are grateful for your participation.
We want to send a huge thank you for participating in our survey. Your responses are invaluable and will be used as the basis for ongoing discussions in our organization and continue to serve the civil legal needs of the people throughout the Hudson Valley.
We would like to say congratulations to the five winners of the Fujifilm Instax Mini 9 Camera Giveaway! And THANK YOU again for your feedback.